Billie Eilish Tickets
Famous American singer and songwriter Billie Eilish has announced her "Happier Than Ever" World Tour. The teenage sensation intends to return to the road in a big way. The trek includes concerts in North America as well. The young singer made her breakthrough with Ocean Eyes that went viral. It racked up to 90 million streams on Spotify. She proved that she was not a one hit wonder with her first album, titled, When We All Fall Asleep, Where Do We Go? Now she is back with yet another record, Happier Than Ever. To promote it the seven-time Grammy Award-winning artist will be going on a massive tour in 2022 and this is your chance to hear her fresh singles live with Billie Eilish tickets. So don't wait anymore and score your tickets right away!
Load More
Early Years and Music Beginnings
Billie Eilish was born in Los Angeles, California on December 18, 2001. Her family comprised actors and musicians and hence her interest in music was only natural. Both her parents Patrick O'Connell and Maggie Baird were well-known in the entertainment industry. Her elder brother was very fond of music, her mother was a gifted songwriter while her father played instruments such as the ukulele and the piano. She grew up listening to music by the likes of Avril Lavigne and The Beatles. Her father enjoyed making mix-tapes of different artists. All this inspired Billie to pursue a career in the field of music.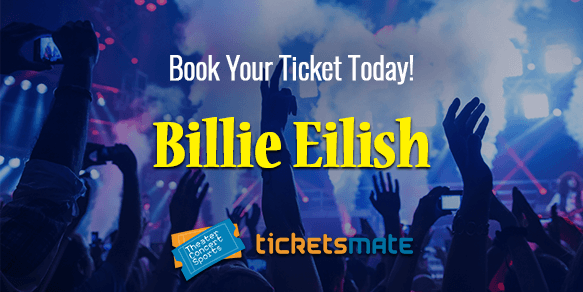 Billie was homeschooled for quite some time but that did not stop her from taking part in extracurricular activities. She enjoyed acting in homemade movies and sang and danced whenever she had the chance. At eight years of age, Billie became part of a choir and performed with it for three years. So by the time she turned eleven, she was capable of composing her own songs. She made a number of short films which she shot on a camera and later edited on Apple's video editing app called iMovie.
Besides, music and acting, Billie thoroughly enjoyed dancing. She also took dance lessons when she was in her teens. With so many skills, Billie was determined to make it big in show business. Her brother had his own band and had written a song Ocean Eyes which he requested Billie to record in her voice. This was the song which went on to become a massive hit and paved the way for Billie's bright future in the music industry.
Career Highlights
Ocean Eyes was recorded in October of 2015. She gave this song to her dance teacher as it was supposed to feature on her next dance routine. But the siblings eventually decided that they must put it up on the music sharing platform – SoundCloud. It was uploaded there in 2016 and in March of the same year its music video was also released. The track got ten million hits in a short span of time.
The unexpected success led to numerous other versions of the song. In November of 2016, a music video featuring Billie dancing on the song came out and further increased her popularity. Offers to buy the rights for the song came pouring in from major record labels. Eventually Ocean Eyes was officially released around the world by Interscope Records and Darkroom. It was an immediate commercial success and received widespread critical acclaim as well. Billie's next single was Six Feet Under.
Billie then made an EP titled Ocean Eyes which comprised about four different remixes of the song Ocean Eyes. All of these became major hits and gave Billie much confidence to carry on in the music industry. In February of 2017, Billie Eilish treated the fans to her single Bellyache. It was co-written and produced by her brother. The song's music video was directed by AJ and Miles and released in March of 2017.
Billie's next song Bored was included on the soundtrack of the Netflix series titled 13 Reasons Why. It was followed by two more singles - Copycat and Watch. In July, 2017, the singer announced her much waited debut EP titled Don't Smile at Me. It was released in August the same year.
The young singer has collaborated with famous musician Khalid and worked with him on a single called Lovely, released in 2018. The song became a big success and made the 13 Reasons Why producers buy its rights and feature it on the series' second season.
The year also saw Billie release singles such as You Should See Me in a Crown and Bitches Broken Hearts. Now fans await her debut album. Billie's brother has already confirmed its release sometime in 2018. Currently she is on The 1 By 1 Tour and will be visiting your city as part of it. So buy Billie Eilish tickets before they are all sold out.
Billie Eilish Rocking 2021 
Things are looking not just good, but great for Billie Eilish! The 19-year-old superstar Billie Eilish is back with a bang. She released her single 'Your Power' on April 29, 2021. The sensational single debuted at number 10 on the Billboard Hot 100. It racked over 150 million streams in the first couple of weeks. Eilish has earned two Grammys Awards as well in 2021. Then followed her documentary film, 'The World's A Little Blurry' that gained international appreciation. She also made her book debut with BILLIE EILISH. As if that was not enough for a loaded 2021, the singer has announced a new tour to support her upcoming album "Happier Than Ever" that is set to release in July 2021. The first leg of her Happier Than Ever, The World Tour, kicks off February 2022. The North American run is a  32-date arena trek. Billie Eilish tickets are selling hot for her new tour so get yours fast to enjoy her fresh singles. 
BILLIE EILISH NEWS AND UPDATES
Billie Eilish announces 'Happier Than Ever" World Tour'
Billie Eilish Tickets Related Questions
The average ticket price for Billie Eilish tickets is $302.00.
Available Billie Eilish Tickets till today are 54 with 61109 seats available.
How much are Billie Eilish Tickets for 2021?
The most expensive Billie Eilish ticket price right now stands at $3750 in section ULTIMATE VIP MEET AND GREET with 4 tickets available in this section. while the least expensive is $184 in section 303 with 2 tickets available.
When do Billie Eilish go on sale in 2021?
We have 54 events available (including presale) of Today across all cities. The next event is on Thu, 3 Feb 2022 in New Orleans at Smoothie King Center with 1070 tickets available and the last event is on Sat, 2 Jul 2022 in Zurich at Hallenstadion - Zurich with 26 tickets available.
How to buy cheap 2021 Billie Eilish tickets?
Cheapest Billie Eilish ticket available is $184 in New Orleans for section 303 on Thu, 3 Feb 2022. For other cities you can sort by price to find the cheapest Billie Eilish tickets.
Do you offer premium tickets for Billie Eilish ?
Some of the premium tickets for Billie Eilish are in New Orleans, LA on Thu, 3 Feb 2022. Often these are front row or floor seat tickets, best available (VIP) seats. These seats are in section ULTIMATE VIP MEET AND GREET with 4 seats available at $3750.
How to get discount on Billie Eilish tickets?
You can use the promo code "PROMOEVDT3" to get 3% discount on your purchase of Billie Eilish tickets.
Are Billie Eilish tickets refundable?
No, Billie Eilish tickets are non-refundable.
How long before the event can I buy Billie Eilish tickets?
You can buy Billie Eilish tickets even on the day of the event, subject to availability. However, it is usually better to book tickets early since seats are limited and prices sometimes rise just before the event. We have 61109 available tickets for Billie Eilish till the date Sat, 2 Jul 2022. Some of the cities where Billie Eilish is performing are: New York 2712 tickets, Las Vegas 4688 tickets, Chicago 1641 tickets, Pittsburgh 2553 tickets, Newark 2202 tickets.
How to Buy Verified Billie Eilish tickets?
Buying verified tickets is extremely important. If you are looking for Billie Eilish tickets, make sure you buy them from trusted sources. Book tickets from sellers who offer 100% money back guarantee and are popular vendors.
How to Buy Billie Eilish Tickets?
Go to the relevant Billie Eilish tickets page on our website. Once you are there, you will see a grid showing multiple Billie Eilish concerts. You can also go to a particular event by using our "Location" and "Date" filters.

Simply click on the relevant event and it will take you to a page with prices for that event.

You can go through the prices and pick the one that suits you the most. You also have the option of going through the Billie Eilish seating chart for that particular venue. You can also use the "Filters" option at the top right end of the price grid to sort tickets even more conveniently. Once you have picked the tickets you want, simply press "GO" and move to the next page.

You can now pick the number of Billie Eilish tour tickets on that page. Once you are done with that, just fill out the form on the page and click on "Proceed to Payment." At the next page all you have to do is pick your payment method, enter your billing address and credit card details.

After filling out the form, click "Review My Order" and go through the details. Once you are satisfied with the information on the page, click "Place Order" and your Billie Eilish tickets order will be processed.
Billie Eilish Tour Dates 2022 & Concerts
Nothing beats the joy of watching your favorite music artist perform live! Billie Eilish's concert dates are out and fans are looking forward to the upcoming shows. The next concert will be held in New Orleans at the Smoothie King Center on 3-Feb-22, while the last available date is for the event scheduled for Dublin at the 3Arena on 4-Jun-22. For complete information regarding dates and venues, please visit our website.
Event
Venue
City
Date
Billie Eilish
Smoothie King Center
New Orleans, LA

Thu Feb 03 2022

07:30 PM

Billie Eilish
State Farm Arena - GA
Atlanta, GA

Sat Feb 05 2022

07:30 PM

Billie Eilish
Spectrum Center
Charlotte, NC

Sun Feb 06 2022

07:30 PM

Billie Eilish
PPG Paints Arena
Pittsburgh, PA

Tue Feb 08 2022

07:30 PM

Billie Eilish
Capital One Arena
Washington, DC

Wed Feb 09 2022

07:30 PM

Billie Eilish
Bryce Jordan Center
University Park, PA

Thu Feb 10 2022

07:30 PM

Billie Eilish
KeyBank Center
Buffalo, NY

Sat Feb 12 2022

07:30 PM

Billie Eilish
Wells Fargo Center - PA
Philadelphia, PA

Sun Feb 13 2022

07:30 PM

Billie Eilish
Centre Bell
Montreal, QC

Tue Feb 15 2022

07:30 PM

Billie Eilish
Scotiabank Arena
Toronto, ON

Wed Feb 16 2022

07:30 PM
Billie Eilish Ticket Prices
The average price for Billie Eilish Tickets start from $332. The minimum get in price is $92 for Billie Eilish Tickets at the Bryce Jordan Center, University Park. For a detailed look at ticket prices and amazing discounts, visit our website.
Name
City
Date
Average Ticket Price
Get In Price
(Minimum Price)
Billie Eilish
New Orleans
3-Feb-22
$497
$144
Billie Eilish
Atlanta
5-Feb-22
$597
$215
Billie Eilish
Charlotte
6-Feb-22
$620
$214
Billie Eilish
Pittsburgh
8-Feb-22
$347
$94
Billie Eilish
Washington
9-Feb-22
$596
$185
Billie Eilish
University Park
10-Feb-22
$350
$92
Billie Eilish
Buffalo
12-Feb-22
$332
$113
Billie Eilish
Philadelphia
13-Feb-22
$399
$170
Billie Eilish
Montreal
15-Feb-22
$648
$197
Billie Eilish
Toronto
16-Feb-22
$705
$252
* Ticket Prices vary on hourly basis.
Suggested Events